Great Mighty Steve (GMS) here.
Hooooooboy!  This is the big kicker, people.  This is my definitive Top 30 favorite games of ALL TIME!!!!!  Keep in mind, though, that I am limited to the games that I have played, and that my opinion may change over time, though most of these decisions will, for the most part, stay the same.  Remember, everyone is entitled to their own opinion, and this is mine.  So, if you have a problem with any of these placements, talk about it in the comments.  I would love to see what you think, or what your favorite games are, because I always enjoy constructive debates.  That said, I don't care for any rude comments.  It's my list; I'll do whatever the hell I want!  Anyway, now that I have that out of my system, let's jump in!
30. Castlevania 1 (NES), and Castlevania: Symphony of the Night (PS1)
The first tie here!  I really couldn't decide which of these two games I like more, so let me explain how I feel about both!

Who doesn't love some classic 8-bit whipping?  Castlevania 1 is simply a masterpiece, and I can recall hours of enjoyment playing this game.  With that in mind, I can also recall many more hours of FRUSTRATION playing this game.  That, coupled with the fact that there are tons of other games that I prefer, is the reason why it is at number 30.
I will not make the obvious reference.
To those who say that the classic Castlevania linear style is far superior to the Metroid style of Symphony of the Night, I say "F-you!"  Nah, I'm kidding.  Both styles are great, it's just that I prefer this style over the other.  The voice acting was cheesy goodness, the area was well-designed, the music was fantastic, and the action felt right.  It was overall a great game.  I still haven't finished it, but that's just a testament to how well designed it is—I haven't even figured everything out yet!
29. Final Fantasy VI/III (SNES)
I know, I know.  To be honest, I'm not denying that this game is a masterpiece.  It must be said, though, that this game has a somewhat broken party system.  Most of the story wants you to focus on maybe 5 or 6 party members when, by the time you're half way through the game, you've easily accumulated twice as much.  Incidentally, I leveled up only four people (not so ironically, the people the story wanted you to focus on), and when asked to form two or three parties for a particular stretch of the game, found that I had one ultimate, bossly, kick-ass party and two shitty ones.  This completely ruined the experience for me.  I'm not gonna sit around leveling up an old man, his granddaughter, a drunk airship guy, and a yeti when I can just waltz right in to Kefka's Tower and finish the game.
Too many fudging characters, man!
This is my main complaint, and other than that, there's not much to say.  When people say that the soundtrack to this game is Nobuo Uematsu's best, I highly disagree.  Though there are a few amazing songs here (Dancing Mad and Aria di Mezzo Caraterre, to name a few), most of the songs are forgettable.  And, while those few amazing songs easily trump most of the songs in the other games, save a few, the soundtrack to Final Fantasy IV is overall more memorable, as I can bring just about every song to mind from that game, but very few from VI.  This is easily my least favorite Final Fantasy game that I have beaten (one out of three).  So, kill me if you want to, but just remember this before you do: Final Fantasy IV.
28. Final Fantasy VII (PS1)
I know, I know!  "How dare you put the legendary Final Fantasy VII so low on your list!!!"  Well, let me explain my reasoning.  First of all, it's my list.  Second of all, it's my list.  Third of all, IT'S MY LIST!!!!!  Fourth of all, I'm not a very big science fiction fan, and I wasn't too happy with the turn the series took starting with VI and escalating into VII.  I'm a much bigger fan of fantasy games with dragons and swords and stuff when it comes to RPGs.  To those who say fantasy isn't just tied down to medieval times, I say that to me, it's just not the same.  Now, I've only played about 10 hours of the game, and my feelings may change, but from the way things are going, I don't think they really will.  Once again, I don't disagree that this game is a masterpiece and I can't say that I didn't have fun playing this game, but the fact remains: Final Fantasy IV.
27. Donkey Kong Country (SNES)
I've only played two DK Country games in my life (the other being Returns for the Wii), and I can say that I really love this game.  Anything that I would say many other people have stated before.  Let me just say this: Play this game, or I'll find out where you live, strap you down in front of your TV, give you a SNES controller, and make you play this game.  The end.
26. Mega Man 3 (NES)
There was a time when I could say that this was my favorite Mega Man game.  However, as time passed, I realized how much I like 2 and X better.  Sure, this game is great and I would easily put it at the number 3 spot on my favorite Mega Man games ever, but the fact remains: this game can be punishingly hard, almost as hard as the first game.  I still love it, just not as much.
25. Super Mario World (SNES)
Honestly, I love this game, but not as much as a few other Mario titles, simply because of its sometimes maze-like structure.  I know some love this aspect of the game, but I like Mario games that are straightforward: here's the final level, and here's the levels you need to beat to get there.  Just my personal preference.  Great game, though.  If you haven't played it, you're a sad case, man.
24. Earthbound (SNES)
Having been converted by my friend in somewhat of a Happy-Happyist fashion, I recognized my love for fuzzy pickles, and Earthbound.  It's just that, I'm not as avid of a fan boy as some members of Starmen.net, and, though I'll keep praying for Ness and his friends, I'm praying a lot harder for Ninten and his.  Now don't get me wrong, I love Earthbound, it's just that I love everything about Mother 1 better.  I know I'll get a lot of flack for this, but believe me, I'm in the minority here.  I recognize that Earthbound is the better game, but there's just this charm in Mother that resonates with me more than Earthbound's charm.  Sorry.
23. The Legend of Zelda: Ocarina of Time (N64)
Okay, now I know you really want to kill me.
I know, I know, I know, I KNOOOOOOOOWWWWWW!!!!!!
But, hear me out first.  If I were to look up the definition of love-hate relationship in my personal dictionary of life, Ocarina of Time would be there.  Why, you ask?  Well, my experience playing the game was ruined by all the Ocarina of Time fans out there.  I was told constantly to play this game, and true, I did enjoy this game, in fact I loved it!  It's just, I felt, because of its unreal praise, that I should have loved it more.  There was something missing from the experience that I thought should have been there that wasn't, and still isn't to this very day.  Before you judge me, Ocarina of Time fans, look in the mirror.  It's YOUR fault.  Well, that takes care of the hate.  As for the love, I have nothing to say but, "It's Ocarina of Time."
22. Mega Man X (SNES)
This game is beautiful.  It's everything a Mega Man game should be: amazing level design, catchy music, great bosses, and fun weapons.  I really like it because I'm good at it, and it's easy for me.  Though I prefer the older style of Mega Man to the X generation, I love Mega Man X because it offers me an easygoing departure from the hard as shit classic games.  Thank you, Mega Man X.  You and your Made in Mexico SNES cart will forever remain in my heart.
21. The Legend of Zelda (NES)
The game that started it all.  Why do I love this game?  Just watch the title screen, and you will know.  I fell in love with all the Zelda games on this list from the first few seconds while viewing the title screen, but Zelda 1 was the one game that made me feel like I was playing a Zelda game right from the start.  I felt truly immersed in the 8-bit world, and I found myself playing this game for hours on end, trying to uncover every secret it had to offer.  I think by now I have the entire game memorized.  It is such a beautiful game that I have no more words.  God, I love this game.  Why is it lower, then, you ask?  Wait and see…
20. The Legend of Zelda: Twilight Princess (GC)
This game is simply beautiful.  Seriously, play it for ten minutes and I guarantee you, you will fall in love with this game.  I can't understand why people hate this game so much.  If people would not let nostalgia blind them (cough cough Ocarina of Time cough cough) and see this game for what it is, then this game would have thousands more followers.  I have so many tender memories with this game that it's impossible to write them all down.  People, put nostalgia aside and see this game for what it truly is: a masterpiece.
How can anyone hate this??
19. The Legend of Zelda: The Wind Waker (GC)
Pretty much all the things I said about Twilight Princess apply here.  Wind Waker is the first Zelda game I fell in love with, and made me realize that gaming isn't all about just Mario and Pokémon.  One thing, though, before I wrap this one up, THE GREAT SEA IS NOT BORING AND EMPTY, SO SHUT THE F UP!!!  Ocarina of Time's over world is just as "boring and empty", and YOU ALL LOVE IT SO GODDHANG MUCH!!!
Was I the only one to notice the pirates, storms, sharks, minigames, pirate towers, octoroks, and, oh, I don't know, the GIANT F-ING SQUIDS??????????????
Sea? SEA????  GIANT SQUIDS=NOT EMPTY!!!!
You can find treasure, too!  NOT EMPTY!!!!
With that out of the way, though I can say Wind Waker is one of my favorite Zelda games, I have discovered another that has surpassed it entirely…
18. Super Mario World 2: Yoshi's Island (SNES)
If I could sum up some of my most nostalgic Mario memories from my childhood, it would be this game.  I always knew, from New Super Mario Bros, that you played as Mario, and when my friend showed me this game, I was blown away that you could play as Yoshi.  I spent so many hours throwing eggs and making tricky flutter jumps.  And hey, how about that final boss, huh?  All in all, this is one of the most beautiful games I have ever played in my entire life.  So go play it.  NOW.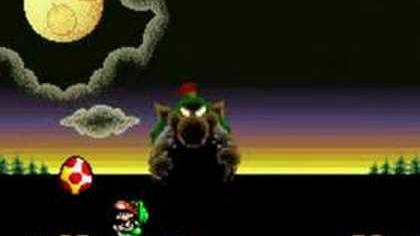 Epic Baby Bowser COMMANDS you to play!
17. Star Fox 64 (N64)
I now present to you: Star Fox 64, one of the greatest titles for the N64, master of one-liners, and number 17 on my list.  This game is one of the funniest, most action packed, most epic, and most replayable games I have ever played.  The branching paths, intense missions, and awesome dogfighting maneuvers keep me on the edge of my seat every time I play.  And, who could forget the corny one liners?
"Hey Einstein, I'm on your side!"
"Do a barrel roll!"
"Can't let you do that, Star Fox!"
16. Metal Gear Solid (PS1)
Ahh, Metal Gear Solid, how I love thee.  You have the best environment of all the MGS games, great characters, an awesome story, and pretty solid (ha-ha) controls—FOR A PS1 GAME!!!!  Seriously, I love MGS1 and 3 pretty much equally, but the control issues in 1 kept it from tieing with 3 on this list.
NGGGGGGFFFFFFFFFAAAAAAGGGGHHHHHIIIOOOOGGHHHHHHH!!!!!
This would be my favorite MGS game, if not for the bad controls.  Sure, they're solid (ha-ha), but one must compare the controls of this game to the other MGS games when ranking them on a favorites list.  I loved every other minute of it, but the controls ruined the experience for me.  Better luck next time, MGS1.
15. Metal Gear Solid 3: Snake Eater (PS2)
Three words describe this game for me, "What a thrill…"  Heh heh heh heh.  See what I did there?  Though I had a lot of gripes with this game when I played it, these complaints are very small and don't greatly affect my feelings about this game.  This game is truly a test of survival—a test of your manhood.  If you were man enough to beat this game and earn the title of Big Boss, then my hat is off to you.  And, if you haven't played or beaten this game yet, then go and play it right now.  It is an adventure you will not soon forget.  It will test your perceptions of society, war, loyalty, and patriotism.  It will test the very core of your being, if that makes any sense.  Just go and play it.  I mean, it's got Big Boss in it.
Big Freaking Boss.
14. Final Fantasy V (SNES/GBA)
When I first heard about this game and how complicated it was, I decided to skip it in favor of other Final Fantasy titles.  I finally got around to playing it, after having a sturdy background in Final Fantasy, and realized that I love it.  The job system, though complicated, is very deep, and it gives the player a lot of free rein to do whatever with the characters.  The best part is, not only are there a hell of a lot more jobs than FF3 or FF1, you can mix and match the job abilities.  For example, you can be a Knight class while having the ability Berserk, something only a Berserker would normally have.  Many other Final Fantasy games that followed 3 and 5 would adopt a system similar to the job system in which you would earn extra experience points to gain new abilities, like Final Fantasy 6's Esper system or Final Fantasy 7's Materia system.  The job system in 5, though, is my favorite gameplay element in all of the Final Fantasy games.  The best part is, you would assume that a game with gameplay so similar to Final Fantasy 1 would not have a compelling story, or even a story at all, right?  WRONG!!!  Final Fantasy V probably has my second favorite Final Fantasy story of all time, and easily my fourth favorite story in all of RPGs.  The characters are fantastic, the villain is awesome, and there are a lot of hilarious scenes in the game.  Final Fantasy V is basically like a combination of Final Fantasy 1 and IV, and that's why I love it so much.
13. Mega Man 2 (NES)
This game changed my life.  Back in sophomore year, I had caught the RPG bug, and I was so hooked on the complex genre that I forgot my gaming roots: platforming.  Mega Man 2 brought me back to my roots with a vengeance.  I remembered how fun it was to run and jump and shoot, and this time, I was experiencing the thrill with a totally different character than Mario!  The amazing soundtrack, superior level design, amazing set of robot masters, freaking Dr. Wily Stage 1 music—I was immediately hooked.  This newfound addiction to Mega Man games branched out and compelled me to try many Mega Man games.  I can safely say that I would not be the gamer I am today if not for this game.  Thank you, Mega Man 2, for bringing back the platformer in me.
12. Chrono Trigger (SNES/DS)
If anyone said that Chrono Trigger wasn't a legendary game, then they are a lying sack of shit.  The game has a cast of characters that you immediately fall in love with, an immersive world to explore, a cool villain, and one of the best soundtracks in all of videogames.  I can praise the time travel system of Majora's Mask until the End of Time (ha ha the end of time get it?), but at the end of the day, Chrono Trigger has my favorite time-travel system in all of gaming.  You visit multiple different time periods, and each time period has its own charm, its own mood, and its own problems.  All these problems stem from the main villain, Lavos, and it's your job to stop him.  All points in time converge at one central area, an area that has probably my favorite name for a videogame area ever: The End of Time.  Sure you can fight Lavos right off the bat, but you'll probably get your ass handed to you.  Just wait until you're ready.  When you are finally ready to face him, it sure is a battle for the ages.   Then you get one of the many different possible endings!  So much replay value here!  And have you heard the soundtrack?  Oh my god!  I just really love this game!  Finally, the character designs and illustrations are done by Akira Toriyama, the creator of the Dragon Ball series.  If that isn't enough for you to check this game out, then I don't know what else to tell you.
I am not worthy!!!!!
11. Resident Evil 4 (PS2)
This game just barely missed the top 10.  There's just one PS2 game that I like just a little bit more…I'm getting off topic.  Let's talk some Resident Evil 4.  If you want a scary good time, this is your game.  This isn't some kind of horror game where there are things that make you scream and wet your pants every five seconds—no; this is a different kind of scary.  Game designers, take note: Resident Evil 4 has one of the best tones of any videogame I have ever played, and this is why.  Whenever you enter into an area, there really isn't any music at all; just maybe the wind blowing or some leaves rustling or something.  But, when you are noticed by a zombie, they yell something in Spanish, alerting their fellow zombie brethren of your presence, and they march in for the attack as some extremely unsettling music plays.  This is the kind of tone I'm talking about: intense, edge-of-your-seat tension that you could just bottle up and sell.  The action is very fun and satisfying, too, and the item management is very strategic.  I heard a lot of hype about this game, and after getting and playing it, it certainly lived up to that hype.  Props to Capcom for making another great game.
10. Metal Gear Solid 2: Sons of Liberty (PS2)
I really want to talk about this game, mostly because I think it is easily one of the most underrated videogames of all time.  I could discuss its many merits, but there is one topic that I must discuss: Raiden.  BUM BUM BUUUUUUMMMMM!!!
Yeah, you heard me right.  Raiden.
I can hear the mob of MGS fans stirring already.  Well, it just seems the masses of MGS fans don't understand the genius behind the character that is Raiden.  Raiden is a perfect example of theming in videogames: his character is designed to make the player feel the emotions he feels throughout the entire game.  When he's shocked, you're shocked.  When he feels betrayed, you feel betrayed.  Essentially, Raiden is YOU.  I felt a personal connection with Raiden that I didn't—and I don't think anyone could—with Snake. The reason being is that Snake and Big Boss are both legendary heroes, while Raiden, like you, is a rookie.  You feel more attached to Raiden's character because of this fact, and the game's story progression amplifies this perfectly.  Want to know what I mean?  Just play the damn game.  Some complain that MGS2 is a bad game because you don't play as Snake the whole time.  Well, Snake in 2 is seen from the third-person perspective for most of the game, and he becomes this idol, this model that you as Raiden want to become.  You couldn't have this kind of relationship with Snake in the other MGS games because you are him already—you are the legendary hero, so there's nothing to strive for.  But, in 2, you want to be as good as Snake, so you try your hardest to become just like Snake.  And, in the end, when you feel lost and confused and betrayed, as Raiden, Snake is the only thing keeping you grounded and sane.  That is the reason why this incarnation of Solid Snake is my favorite in the series, and the character of Raiden could be the single reason why I love this game so much.  Want to know what I mean?  Well, stop berating this masterpiece of a game and go play it, damnit!  Also, thank you Kojima.  I'm glad that at least you love the character of Raiden.  I hope someday everyone will acknowledge his true worth.
9. Super Mario 64 (N64)
Boy, what a classic.  I really, truly love this game.  I just can't put into words why I love this game so much, mostly because anything that I would want to say has already been said.  The music is amazing, the gameplay is solid, it's just a jolly good time.  I had so much fun playing this game it's indescribable.  One memory that always comes to mind is my favorite stage, Thwomp's Fortress.  I loved climbing up the fortress slowly, with bullet bills, thwomps, and whomps waiting to kill you.  It was a blast.  Oh, and who could forget the monkeys and the bunnies?  Good times, good times.
8. Mother (NES/Famicom)
This is one of the games that changed my life.  Seriously. I'm probably angering a lot of Mother fans by putting Earthbound at number 24 and Mother at number 8, but I DON'T CARE!!!!!  This is my favorite game in the Mother series, and my third favorite RPG of all time.  Yes, it bears many similarities to Earthbound, but what I like about Mother is a certain charm that it gives that I don't find in Earthbound.  I never thought such an amazing game as this could appear on the NES.  It has one of if not my favorite videogame soundtrack of all time, and it has one of my favorite final boss battles of all time.  I love how you defeat Giygas with the very song his human mother sang to him as a lullaby.
snif snif…
By the time that battle was over, I was in tears.  You don't generally find this kind of depth and emotion in an NES game, and that's why I love Mother so much.  An old Japanese commercial for Mother stated that it was a "guaranteed masterpiece."  By golly, they were right.
7. Doom 2 (PC)
Doom 2 is the greatest first person shooter ever made.  There, I said it.  Take that, Goldeneye!  No, seriously.  It is.  Talk about environment and tone.  Doom 2 is a game you need to play if you're going into game design.  One of the most intense parts about all the Doom games is opening a door, not knowing what's behind it, or turning a corner and feeling the same feeling of dread while doing so.  The music only adds to this.  Some tracks are actiony, others have a very eerie tone.  Geez, you're fighting demons in a HELL ON EARTH for God's sakes!
And, how about that final boss, Icon of Sin?
IT'S A WALL, and it's still one of the scariest things I've ever seen in my life.  This game is great on so many levels.  Definitely the definitive first person shooter.
6. Pokémon Red Version (GB)
Many people have their own definition of nostalgia.  For some, it's Super Mario Bros; for others, Donkey Kong; for others, (sigh) Ocarina of Time.  For me, the definition of nostalgia is Pokémon Red Version for the Game Boy.  This was the first game I ever owned, and the second game series I ever got into.  I was always into the show and the card game, but neither truly offered me the opportunity to become a Pokémon master.  That opportunity was given to me for the first time when I got Red.  I was truly immersed in the world, and I developed strong relationships with my Pokémon that still remain today.
Squirtle, nothing will ever tear us apart….
And, when I beat the Elite Four and became a Pokémon Master, I felt like a man.  Seriously, it was like an initiation ritual.  The thing that I had always wanted to be, I had become.  Every long holiday that I get, I find myself replaying this game at least once.  I know the world of Kanto so much I feel like I had lived there in another lifetime.  Every time I start in Pallet Town, I start to cry.
snif…snif…BWAAAAAAAAAAAAAAAAAAAAA
The memories Pokémon Red version gave me are memories other games could never hope to give.
5. Final Fantasy IV/II (SNES/GBA)
This game is the definition of a perfect Final Fantasy game and a perfect RPG.  Seriously, I can't find any flaws in this game.  There's no real need for grinding, the characters are amazing and have great development, the world is huge and immersive, the dungeons are cool and the boss battles are amazing.  Oh, and need I mention Nobuo Uematsu's score?  Final Fantasy IV is the total package.  Though it is not my favorite, I truly believe that no other RPG has surpassed the compelling nature and artistry that is Final Fantasy IV.  There's just this magic about the game that no other game has, and this same magic compels me to play the game and enjoy it.  "But GMS," you say, "FFIV has just as many characters as in FFVI, and you say there's nothing wrong with that here?  You hypocrite!"  Well, Final Fantasy IV integrated its characters within the game so well, what with most of them dying and all, that I'd hardly call that a flaw in this game.  There was no, "Choose three parties to complete this dungeon."  In FFVI, it was just bull crap, but FFIV got everything right.  Every time I go on YouTube to listen to Final Fantasy music, I always see arguments in the comments about which FF is better: VI or VII?  I have just one question: Why does the superior Final Fantasy IV not enter into this debate?  You don't know how many top ten lists I see for classic games or Super Nintendo games that feature VI but not IV.  It's a shame that many gamers have forgotten this timeless masterpiece.  I'm just glad that it has its devoted group of fans who see it for what it is: the greatest RPG of all time.
4. Super Metroid (SNES)
Many Metroid Prime fans think this game is overrated.  I am a Super Metroid fan, and I think Metroid Prime is overrated.   Let me just be blunt, though, and say that both arguments can be made.  In reality, both Super Metroid and Metroid Prime are overrated.  But, I'm not here to talk about Metroid Prime; I'm here to talk about Super Metroid.  Super Metroid is another game that you need to play if you're going into game design.  This is the definition of a perfect game and a perfect sequel.  Everything that was wrong in the previous Metroid titles was completely fixed.  The tone of Super Metroid is easily one of if not the best tones in videogames.  You truly feel like you are on the alien Planet Zebes.  The attention to detail in this game is astounding, too.  Recall when you first land on the planet, and are running through the cave, as little bugs and creatures scuttle away.  My single most favorite part of the entire game is when you first enter Ridley's Hideout.
HOLY SHIT!!!!!
You usually do this towards the end of the game, so you're pretty decked out with gear and feel really accomplished.  You go down the elevator into the hideout, and the song "Lower Norfair" plays.  This eerie and epic song is basically Ridley saying that the shit has really hit the fan now.  You think you are powerful now, but the terror has only begun!  Such an epic song, too.  And, who can forget the iconic Mother Brain battle and the sacrifice of the Baby Metroid?  I must admit, I cried during that.   All in all, Super Metroid is a perfect masterpiece.
3. Super Mario Bros. 3 (NES/SNES/GBA)
This is easily my favorite Mario game, mostly due to the fond memories that I have of playing it—even fonder than memories of my first Mario game, New Super Mario Bros.  I had inherited an old SNES from a friend of my aunt's, and one of the games that came with it was Super Mario All Stars, which included Super Mario Bros. 3.  Since I am a lot better at this game than probably any other Mario game, it became my default option when I got frustrated with Super Mario World (which, by the way, happened frequently).  I loved how the worlds were so lush and unique, like those in Mario World, yet the game retained the straightforward world style that I loved from the beginning.  I also love the challenge of some of the worlds: they were difficult, but not too difficult to the point that it wasn't still fun.  The biggest change from the games that had preceded it was the worlds' character.  The worlds felt more alive and lush than those in Mario Bros. 1 of 2.  The power-ups in Mario 3 are easily the best in the series: the classic Raccoon and Tanooki suits, the epic Hammer Bro. suit, the useless Frog suit, and the tried and true Super Mushroom and Fire Flower.  And who can forget the epic boss battle with Bowser at the end?  God, I love this game.  I love the Super Nintendo version, by the way.  There's nothing wrong with the NES version, but the SNES version gives the game so much more life.  It truly does the game more justice than its older 8-bit edition.  I just really, really love this game, so I'm going to stop now before I go on a gushing rampage.  If you haven't played this game, go out right now and play it!!!
2. Final Fantasy 1 (Dawn of Souls Version: GBA), and Dragon Quest (NES, SNES, GBC)
These games are some of the many games that have changed my life.  Let me talk about both in detail.
Before I played this game, my only knowledge of RPGs was Pokémon, and I really don't consider Pokémon a RPG.  I went to Half Price Books during my winter break of sophomore year, and saw two GBA cartridges: Final Fantasy IV Advance and Final Fantasy I and II Dawn of Souls.  I used all my money and bought both of them, then immediately started playing the first game when I got home.  I popped it into my GBA, and was transported into a bright, beautiful, and lush world of magic.  I remember my first team clearly.  The names were all names of my friends, except the Black Mage, which was me.
 Because I'm always the Black Mage, bitch.
This game showed me all that RPGs can be.  It is a simple game, yet it has this charm that I don't think any other Final Fantasy games have, even the perfect IV.  One thing must be said, though: The Dawn of Souls version is far superior to the NES original, mostly because of the ever discussed grinding issue.  Now I, unlike many other gamers, don't really mind the grind, as long as there are favorable conditions for grinding.  The grinding situation in the NES edition of I is horrible: the enemies you can successfully defeat give so meager an amount of experience, but the enemies that give a decent amount of experience can easily kill your team.  Dawn of Souls improved on this so much that grinding becomes less of a chore and more of an adventure.  The enemies give you almost double the experience and money than the NES version does, and the difficulty is dummed down to an actual playable level.  Besides the grinding issue, though I doesn't have a sweeping story like most other Final Fantasy games, its simple story is charming and epic.  If you dig deeper, though, you'll find complicated elements to the story in the game's ending, like the 2,000 year time loop, which I still don't think I completely understand.  The soundtrack was vastly improved upon as well, adding boss themes and remastering the original tunes.  I think this might be my favorite Final Fantasy soundtrack ever.  I love this game because of its simplicity yet elegance.  It was truly an adventure not forgotten, and without it I can safely say I wouldn't have gotten hooked on RPGs at all.  In the end, I was the true warrior of light.  The crystals will shine in my heart forever.
Dragon Quest is easily the most important RPG ever created (well, besides D 'n D).  It created the genre essentially in Japan, and took a lot of inspiration from older, and frankly not that good, Western RPGs like Ultima.  The story is simple and, yes, cliché, but that's easily forgivable, because Dragon Quest invented the cliché.  The gameplay can be tough, especially with the grinding, but I stick by what I said about Final Fantasy 1.  In fact, grinding to me makes me feel more accomplished about playing the game when I beat it.  That said, the SNES and GBC versions tone down the grinding by half, making the game easier to play. One of the things that I like about Dragon Quest is that it's the perfect bite-sized RPG.  Clocking in at about 4, 6, or 8 hours to beat, it really is simplicity defined as far as RPGs and, you know me, I love me some simplicity.  One of the reasons I don't like a lot of new games is that they seem to have large and long-winded stories, and these usually don't appeal to me.  Not so with Dragon Quest.  Pretty much everything from Final Fantasy 1 applies here as well.  And, how about that main theme?  Koichi Sugiyama's score for this game is simply beautiful.  And, come on, like Chrono Trigger, Dragon Quest's art direction and character design were done by Akira Toriyama!  All in all, Dragon Quest is a magical experience I won't soon forget.
Once again, I AM NOT WORTHY!!!!!!
1. The Legend of Zelda: Majora's Mask (N64)
It's very interesting that this game is the only Zelda game in my top 10, or even in my top 15.  This is just a testament to how unique and amazing of a game Majora's Mask is.  I can safely say that my journey playing Majora's Mask was my perfect Zelda odyssey.  All of the merits that I praised about the other games in the series apply here.  It is a beautiful game, and I fell in love with it from the very first seconds of playing it.  That being said, Majora's Mask was my most complete Zelda experience as well.  I mentioned how I felt emptiness after beating Ocarina of Time—that I really didn't feel accomplished or happy when I beat it.  Ocarina of Time was the worst case scenario for me in the Zelda series, as after beating the other Zelda games on this list I felt a certain degree of emptiness—of not being truly happy or accomplished.  This cannot be said of my experience with Majora's Mask.  This game is one of the most criminally underrated games of all time.  Many Zelda fans berate it for its lack of dungeons, many fans berate it because it looks like Ocarina of Time, many berate it because it supposedly "copies" off of Ocarina of Time, the list goes on and on.  None of these are true.  For one, yes, the game has only four dungeons, but the amount of side quests completely makes up for this.  In fact, I think that having any more than these four dungeons would be detrimental to the game itself.
Besides, Stone Tower Temple is easily one of if not the best Zelda dungeons ever.
The side quests allowed you to connect with the other characters in the world in a way that no other Zelda game has before or any other will in the future.  Another issue that comes up in Majora's Mask discussions is the three day cycle and how stupid it is.  It is not stupid.  Nintendo experimented with a new design choice, and it worked perfectly.  It was a triumph.  The three-day cycle was my favorite part of the game, as I loved pouring over the strategy guide and seeing how much people I could save in one day.  That is why the time cycle is a great design choice—everything you did in the time cycle is erased when you play the Song of Time.  You forge this connection with the people of Clock Town and Termina, and you feel this compelling need to save them from their horrible fate.  You accomplish many tasks in one cycle, and you feel sad when you play the Song of Time, because it means everything you had done was a waste—it had no impact on the people at all.  I remember when I saw the Dawn of a New Day screen when I beat the game, I felt so relieved and happy to see this, and to see the ending.
Best day of my life!
The ending wasn't the best ending ever, but it certainly was the most satisfying.  I could seriously write a whole paper on why I love this game.  It was truly my perfect Zelda odyssey.
So, that's my Top 30 games of all time—for now.  My opinion may change, but I highly doubt it will for a while.  Just remember: this list is my humble opinion, and I understand that you may not feel the same way as I do.  I just want to put my thoughts out here, not insult anyone.  That said, what did you think?  Feel free to strike up a conversation, as long as it's constructive debate.  Thanks for reading, and remember: "Opinions are like assholes.  Everyone's got one."